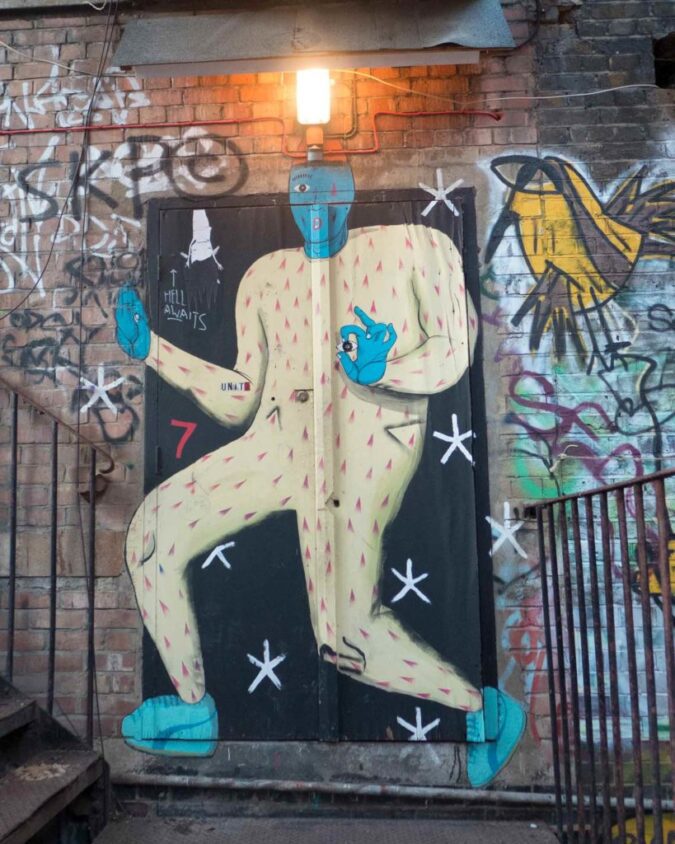 Bill Wishner
Hell Awaits (London)
Photograph
This exhibition features selected photographs by Bill Wishner, Clinical Professor of Medicine at the Keck School of Medicine, from an ongoing series of unique views of the urban wall art scene, shot over the past several years in cities around the world. The viewer is encouraged to consider each photograph's aesthetic and artistic merit without specific title or artistic attribution.
What draws us to the art of the urban wall? What is the visual code or message that emanates from the wall? Who made their mark there – an artist, an activist, a merchant, a gang member? What was their motivation? How long will it survive? Who lives or works behind the walls? Who will add the next piece of the visual collage for viewers to ponder?
Wishner's photography focuses on select pieces of walls that have been placed democratically (i.e., application of messages and/or art on walls largely without local or central control). The accidental juxtaposition of the walls and their visual content produces an unexpected visual presence. This layering creates a form of abstraction that transcends what the original contributors envisioned. Through Wishner's lens, the viewer is presented with new art – unanticipated, but aesthetically appealing and worthy of critical discussion.
Artist Biography
Bill Wishner, was a jazz photographer for more than 20 years before turning his attention to the urban environment and more specifically urban wall art. His jazz photographs have been part of multiple exhibits. He was co-editor of Monterey Jazz Festival: 40 Legendary Years (Angel City Press, 1997). In 2007, he started f8 Pasadena Salon, a local photography salon exploring the aesthetics and art of photography.
In 2011, Bill founded PasadenaPhotographyArts a non-profit (affiliated with the Pasadena Arts Council/EMERGE Program) dedicated to helping emerging photographers and promoting photography on the east side of Los Angeles.
Bill has published two volumes of prose poems (e-books on Amazon/Kindle), Things Happen When You Travel Vol. I and II. Bill is currently Clinical Professor of Medicine at Keck USC School of Medicine.
Contact:
Bill Wishner / Paracosm Photography
Email: wwishner@gmail.com
The Sophie Davis Gallery is located between the lobby and auditorium.
It is open to the public during the School's operating hours: Monday through Friday, 9 am to 5 pm.
For more information, contact Emily Nabors at emily.nabors@usc.edu.