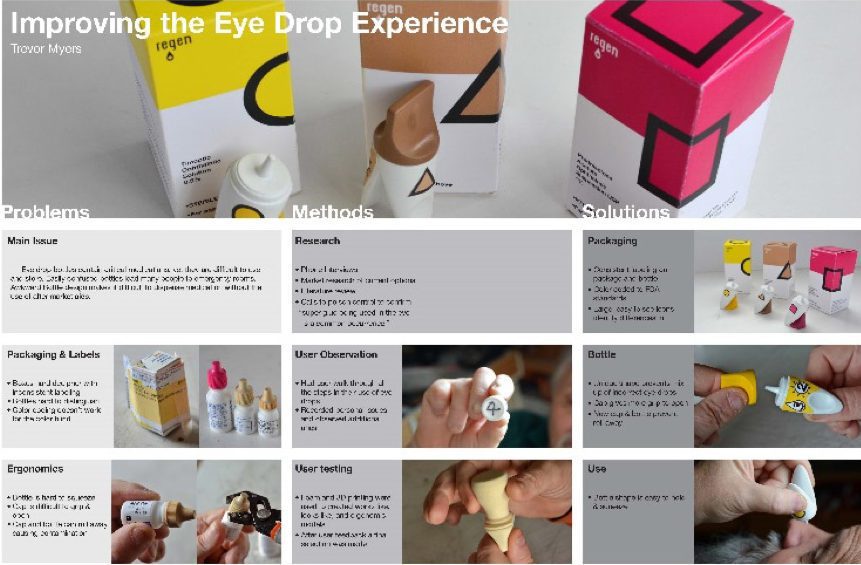 Trevor Myers
Eye Drops: Improving the Eye-Drop Experience, 2014
First Place Winner
Student Winners of Morton Kesten Universal Design Competition
October – December 2014
From Dreams to Reality: Innovations in Universal Design displayed designs by students from across the state that were submitted to a juried competition as part of the Morton Kesten Summit, Designing A Better Future: Best Practices in Aging in Place. The works used principles of universal design that support aging in place to either re-conceptualize an interior or develop a new product for use at home. This year's first-place winner was Trevor Myers with his submission, "Eye Drops: Improving the Eye-Drop Experience," to address the challenges of identifying labels, opening caps and squeezing bottles. The second-place winner was called "Intella-Bell" by Stephen Barbour and Lori Kenuk. The Intella-Bell is a wifi-enabled, cloud-controlled doorbell for home automation design process intended to be a product that integrates universal design concepts, functionality, and esthetics. The third-place winner, USC occupational therapy student Naoya Nick Ogura, presented the "Shower Cane Concept," a four-legged waterproof cane and stand to assist with stability and balance in the shower.
Learn more
The Sophie Davis Gallery is located between the lobby and auditorium.
It is open to the public during the School's operating hours: Monday through Friday, 9 am to 5 pm.
For more information, contact Emily Nabors at emily.nabors@usc.edu.