Faculty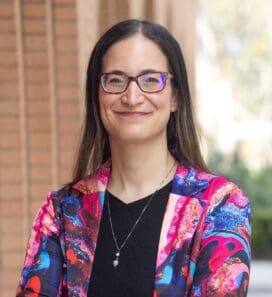 Bérénice Benayoun, PhD
Assistant Professor of Gerontology, Biological Sciences, Biochemistry and Molecular Medicine


Expertise: Big data, Sex differences, Immune function
Education
PhD, Genetics and Cell Biology, Paris Diderot-Paris 7 University, École doctorale GC2ID, Paris, France, 2011
Diploma from the École Normale Supérieure (Biology major), France, 2009
MSc, Genetics École Normale Supérieure/Université Paris 7, France, 2007
BSc, Biology, École Normale Supérieure, Université Paris 7, France, 2005
Research
Big data
Sex differences
Immune function
Affiliations
Faculty Affiliate, USC Neuroscience Graduate Program
Overview
Bérénice Benayoun, Ph.D., is an Assistant Professor of Gerontology and Biological Sciences at USC Leonard Davis School of Gerontology. She holds secondary appointments in the Department of Molecular and Computational Biology Department of the USC Dornsife College of Letters, Arts and Sciences and the USC Norris Comprehensive Cancer Center. She joined the USC faculty in 2017.
Dr. Benayoun received her undergraduate and graduate degrees at the École Normale Supérieure de Paris and Université Paris Diderot-Paris 7 in Paris, France. Her PhD work focused on a transcription factor whose mutations lead to a human syndrome associated to premature menopause. During her post-doctoral training, she identified a new key chromatin signature of cell identity and transcriptional consistency, which is partially remodeled during aging. This work has raised important questions about the stability of cellular identity throughout life. Her lab's current research focuses on epigenome and transcriptome remodeling with aging in vertebrates, how these changes interact with overlooked cues such as biological sex, and the roles that these changes can play in the aging process. Her lab is also one of the pioneering labs in the development of a naturally short-lived vertebrate as a new model for aging research, the African turquoise killifish Nothobranchius furzeri.
Dr. Benayoun was named a 2020 Pew Biomedical Scholar and the 2021 Nathan Shock new Investigator. Since starting as faculty, she has also been the recipient of the 2019 Rosalind Franklin Young Investigator Award in Mammalian Genetics, of a Junior Faculty Award from the American Federation of Aging Research, of Junior Scholar Award from the Global Consortium for Reproductive Longevity and Equality GCRLE. She also serves on the editorial boards of scientific journals Translational Medicine of Aging, Journals of Gerontology series A: Biological Sciences and eLife.
Office Phone: (213) 821-5997