Faculty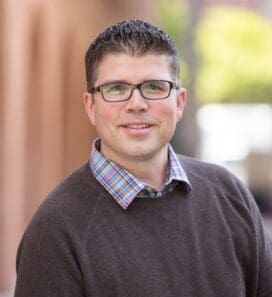 Sean Curran, PhD
Professor of Gerontology
Vice Dean
Dean of Faculty and Research
James E. Birren Chair in Gerontology
Expertise: Biology, Genetics, Nutrition and diets
Education
Post-doctoral Research Fellow, Harvard Medical School, Genetics and Massachusetts General Hospital, Molecular Biology, 2010
PhD, Biochemistry and Molecular Biology, University of California, Los Angeles, 2004
BS, Biochemistry, University of California, Los Angeles, 1999
Research
Molecular, genetic and biochemical approaches to identifying evolutionarily conserved mechanisms that regulate cellular and organism survival and longevity
Overview
Sean P. Curran, PhD, is a Professor of Gerontology and Molecular and Computational Biology and the Vice Dean, Dean of Faculty and Dean of Research for the Leonard Davis School of Gerontology at the University of Southern California. He received his PhD in Biochemistry and Molecular Biology from UCLA and post-doctoral training at Harvard Medical School and the Massachusetts General Hospital.
Curran's current research program is funded by the National Institutes of Health (NIA and NIGMS) and has received past research funding by the Ellison Medical Foundation, the American Federation for Aging Research (AFAR), and the American Heart Association.
Curran is a Fellow of the Gerontological Society of America. He has received numerous awards for his research, including: the Paul F. Glenn Award, the Nathan Shock New Investigator Award (GSA), and the Ewald W. Busse Research Award. Curran's mentoring has been recognized by Mellon Foundation and in 2019 he received the USC Provost's Mentoring Award.
Office Phone: (213) 740-5354