Faculty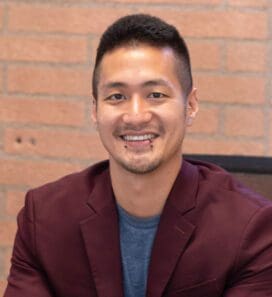 Ryo Sanabria, PhD
Assistant Professor of Gerontology
Pronouns: They/Them/Theirs
Expertise: Stress response, Mechanisms of aging, Genetics
Education
PhD, Nutrition and Metabolic Sciences, Columbia University, New York, NY, 2015
M Phil, Nutrition and Metabolic Sciences, Columbia University, New York, NY, 2014
MA, Nutrition and Metabolic Sciences, Columbia University, New York, NY, 2013
MA, Biotechnology, CUNY Hunter College, New York, NY, 2011
BA, Biotechnology, CUNY Hunter College, New York, NY, 2011
Research
Studying the intersection between stress and aging:

How exposure to stress impacts the aging process
How the capacity to deal with stress declines during the aging process

Understanding how cells deal with stress by activating compartment-specific cellular stress responses:

How the unfolded protein response of the endoplasmic reticulum promotes ER health and function by promoting protein and lipid homeostasis
How the unfolded protein response of the mitochondria restores mitochondrial import, energy dynamics, and metabolism to promote its function
Identifying and characterizing a novel "unfolded protein response" dedicated to preserving the form and function of the actin cytoskeleton

Challenging the notion that cellular stress responses are unique and distinct:

Uncovering the extent of cross-communication of stress responses
How one organelle's health and function impacts other organelles
Overview
Ryo Sanabria's experience is considerably different from that of the typical researcher – they come from a background in restaurant and retail management, having worked as an assistant store manager, general store manager, and district manager in well-known companies including Burger King and Starbucks, as well as independent restaurants like Menchanko-Tei, for the first 10+ years of his professional life. Having come from a disadvantaged background, they hold immense value in these seemingly disconnected experiences that provide the complex ability to multi-task and time management, which are instrumental in a scientific career.
Sanabria completed their BA and MA degree in Biotechnology at Hunter College, working with Dr. Paul Feinstein in the characterization of odorant receptors in mouse olfactory neurons. Subsequently, they completed their PhD at Columbia University with Dr. Liza Pon working on the identification of novel actin-mitochondrial interactions in regulation of cellular health and lifespan and developing novel tools to measure organelle health in the yeast model organism, S. cerevisiae. Throughout their research career, Sanabria also invested time in developing a pedagogy, working as a teaching assistant and adjunct professor at several high schools, Kaplan, Hunter College, Columbia University, and College of Mount Saint Vincent.
As a postdoc in the Dillin Lab, Sanabria focused on understanding how organisms respond to stress and how their responses serve to protect organismal health and healthy aging. Specifically, they worked on how compartment-specific stress responses that protect the endoplasmic reticulum, mitochondria, and cytosol can impact the aging process. Currently, the Sanabria lab is particularly interested in understanding how and why stress response pathways breakdown during the aging process – for example, an 18-year-old exposed to desert heat would be uncomfortable, but would likely survive, while exposing a 90-year old to the same level of heat stress could be catastrophic or deadly. The Sanabria Lab also studies how hijacking cellular stress responses could be used as a tool to slow down the aging process – that is, if we give the 90-year old an 18-year old's capacity to deal with heat stress, would they be much healthier overall?
The Sanabria Lab's research focuses on three major fields: (I) regulation of actin, the "skeleton" of the cell; (II) quality control machineries of the endoplasmic reticulum, the "factory" of the cell; and (III) metabolism and health of the mitochondria, the "powerhouse" of the cell. Specifically, Sanabria is interested in how the stress responses dedicated to protecting these distinct organelles deteriorate during the aging process, the potential to hijack the function of these stress responses to promote lifespan, and studying the overlap and cross-communication of these stress responses.
The Sanabria Lab also puts diversity, equity, and inclusion at the forefront. The lab directly participates and promotes programs dedicated to increasing all types of diversity (women, LGBTQ+, underrepresented minorities, socioeconomic minorities, those combating medical ailments, etc.) in STEM. These include the NIH B2B program and CHORI summer research programs, as well as their own personal movements to accomplish these goals. Sanabria is also an avid fitness enthusiast and certified yoga, Pilates, and Barre instructor.
Email: ryo.sanabria@usc.edu
Office Location: GER 346E