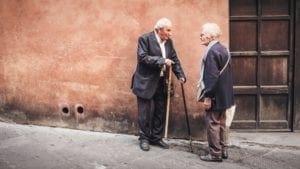 If you are interested in a master's degree in gerontology and decide you want to make a career of working with the aging population, you may be considering nonprofit work after getting your degree. U.S. News & World Report contributor Alison Green notes that, in nonprofit environments, "staff members often derive an enormous sense of personal fulfillment from their work (particularly if the organization is well-run and getting results)."
Green also mentions that nonprofits typically offer high salaries, excellent benefits, or both. If you're interested in a career with flexible hours, great health coverage, and other perks, working in the nonprofit sector might leave you fulfilled and satisfied at the end of every work day.
Job Security
One of the benefits of getting a gerontology education lies in the number of people you can serve in the nonprofit sector. According to the United Nations, the worldwide population of people aged 60 or over is 12.3 percent but will rise to more than 22 percent by 2050. The UN notes that, in addition to the increased aging population, people have begun to live longer lives.
For instance, you could join a nonprofit as a director to help the organization thrive. Many nonprofits serve the aging population, and as a director, you might find yourself responsible for managing accounting, funding, outreach, and more, and your advanced gerontology degree could help you understand how to reach your audience more effectively. Some unique nonprofits that serve seniors include:
Neighbor Ride Inc.

National Council on Aging

Jewish Council for the Aging

Shepherds Centers of America

Meals on Wheels

Second Wind Dreams
Another option might be to seek a high-ranking job in social work if you prefer to work directly with the aging population. In this role, you might work one-on-one with people who need your help, using your gerontology background and social work experience to relate to the people you serve.
Increased Salary Potential
In addition to job stability, you might enjoy greater salary potential if you get a master's degree and decide to work for a nonprofit. According to the U.S. Bureau of Labor Statistics, or BLS, many economic studies show compensation advantages and parity for workers in the nonprofit sector versus the private sector.
The BLS reports that salary differences can depend on the type of work you do. Getting a master's education can increase your salary potential significantly. In fact, the BLS reports that professionals with master's degrees earn a median wage of $68,000 per year, while those with less education earn a median of $56,000. Additionally, the BLS cites social services as one of the categories in the nonprofit sector where a master's degree can result in a salary premium.
For instance, if you decide to become a counselor, the median annual salary jumps from $37,000 to $50,000 if you get a master's degree. As a counselor, you would help older adults adjust to the changes occurring in their lives, set new goals and help them reach those goals.
Extensive Career Opportunities
According to the National Center for Charitable Statistics, more than 1.5 million tax-exempt organizations exist in the United States. More importantly, the U.S. Department of Health and Human Services lists dozens of organizations that focus specifically or partly on the elderly.
Some of the larger, more recognized organizations include the following:
American Geriatric Society

National Alliance to End Homelessness

International Network for the Prevention of Elder Abuse

Alliance for Aging Research
Additionally, Forbes contributor Kerry Hannon points out that you don't have to remain in the nonprofit sector forever. If you feel that your skills and expertise will serve people better in the public or private sector, you can choose to change careers. Hannon reports that nonprofit experience can have a positive impact on one's resume, showing that you're willing to work extra hours and that you care about the population you serve.
Hannon also notes that when you go to work in the nonprofit sector, you need to know what you can offer an organization.
Some of the most attractive job opportunities include the following:
Marketing:

Your expertise in gerontology might give you unique insight into the aging population. In a marketing career, you could leverage that knowledge to help nonprofits effectively reach older consumers, whether for donations or other purposes.

Program Coordinator:

Develop, test, and execute programs for a nonprofit organization. Specifically, you might use your specific knowledge to help design programs for older adults' recreation and community services.

Facility Educator:

Participate in adult learning programs and develop new programs for the aged population. With a background in gerontology, you could have advanced insight into how the older population thinks and learns best, which could make you uniquely qualified for this position.

Events Director:

Plan, organize, and execute events for the nonprofit organization to connect with the community and to benefit the population you serve. At a nonprofit, your knowledge of the older population could help you plan events that appeal to the older population and attract a larger audience.
If you're a recent graduate who wants to obtain further education, a master's in gerontology can help you build your skills and resume as you seek nonprofit work. Learn more by visiting the University of Southern California Master of Arts in Gerontology or Master of Aging Services Management program from the Leonard Davis School of Gerontology.
Sources:
http://money.usnews.com/money/blogs/outside-voices-careers/2014/03/26/thinking-about-a-nonprofit-job-heres-what-you-should-know
https://www.bls.gov/opub/mlr/2016/article/nonprofit-pay-and-benefits.htm
https://www.bls.gov/careeroutlook/2015/article/should-i-get-a-masters-degree.htm
http://kff.org/other/state-indicator/total-population/?currentTimeframe=0&sortModel=%7B%22colId%22:%22Location%22,%22sort%22:%22asc%22%7D
http://nccs.urban.org/data-statistics/quick-facts-about-nonprofits
https://aoa.acl.gov/aoa_programs/tools_resources/national_organizations.aspx
https://greatnonprofits.org/categories/view/seniors