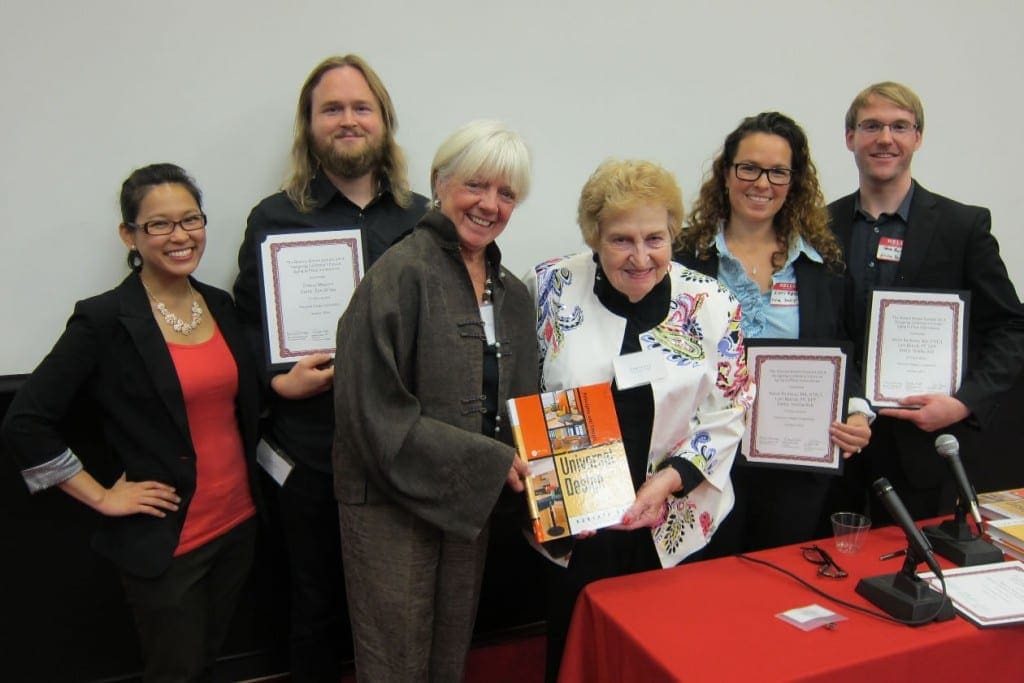 Judges and winners of the Morton Kesten Summit Universal Design Competition 2014 (L to R): Anna Nguyen, Trevor Myers (1st prize winner), Mary Lou Dauray, Roberta Null, Lori Kenuk and Steve Barbour (both 2nd prize winners)
California's rapidly aging population will need new design and policy innovations to help them live safely in their homes and communities, according to several experts who spoke during the 2014 Morton Kesten Summit, "Designing California's Future: Aging in Place Innovations," hosted by the USC Leonard Davis School of Gerontology on October 9.
The impact of a growing population of older Californians will be felt by everyone, not just our elders, said keynote speaker Henry Cisneros, CityView chairman, former U.S. Secretary of Housing and Urban Development, and former San Antonio, Texas mayor.
"There are 40 million Americans 65 or older, and by 2040, that will double to 80 million," he said, adding that two-thirds of the U.S.'s older adults depend on a family caregiver. "The life of every single American will be touched by these issues."
Sharing anecdotes of his mother's declining health and the risks she has faced by staying in a family home that has become unsuitable and unsafe for her, Cisneros advocated for a strong push for homes and living environments that are more appropriate for the aging process. With a majority of older Americans wanting to remain at home for a long as possible, he said that the nation is in for a wake-up call.
"The scale will be immense; this is not an easy issue to address," Cisneros said. "We're aging, we're not ready, and we're not preparing fast enough."
Lora Connolly, director of the California Department of Aging, discussed how state-level strategic planning and coordination for evidence-based social programs can also assist older adults who wish to age in place. For instance, education programs regarding disease prevention and nutrition can target areas with many low-income elderly individuals through the Supplemental Nutrition Assistance Program (SNAP), while health plans for low-income older adults could cover independent living assistance in addition to nursing home care.
"Fostering aging in place will require significant coordination and many partners," Connolly said.
Jon Pynoos, UPS Foundation Professor of Gerontology, Policy, and Planning at the Davis School and co-director of the Fall Prevention Center of Excellence, said making modifications to existing homes and employing universal design principles in the creation of new homes is critical for preserving independence for older adults.
"Home modifications and universal design can help promote aging in place, a concept whose time has come," Pynoos said.
Inventors Showcase Universal Design Innovations
Universal design is a broad approach to design that maximizes accessibility for people of varying ages with and without disabilities. Several principles guide this process:
Is something simple and intuitive to use?
Is it flexible and able to be used in various ways?
Is it equally usable for a wide spectrum of people?
Is the appropriate size, or does it provide the proper space, for use?
If it provides information, is it readily perceivable and understandable?
Does it take only a small amount of physical effort to use?
If someone doesn't use it in the proper way, are negative consequences avoided or minimal?
Several teams of student and industry-based inventors submitted and demonstrated products utilizing these principles for the 2014 Kesten Summit Universal Design Competition. A multi-disciplinary panel of judges was chaired by Mary Lou Dauray, an artist and advocate for inclusive spaces and universal design, and included Pynoos, Common Place Design President Roberta Null, and Anna Quyen Do Nguyen, a research scientist in the Fall Prevention Center of Excellence and a universal design instructor at the Davis School.
First-place winner Trevor Myers, a Master of Arts in Industrial Arts student at San Francisco State University, presented a dramatic redesign of eye drops bottles, lids, and packaging in order to make self-administering eye drops easier for individuals with vision impairments, limited hand dexterity, and other difficulties. Bright colors, raised text, and ergonomic bottle shapes were proposed to improve ease of use and limit the confusion of eye drops with other small bottles.
Physical therapist Lori Kenuk and occupational therapist Steve Barbour MAOT '10, president and vice president of Evolve Therapy in Los Angeles, showcased the Intella-Bell, a doorbell system that provides both visual and tactile feedback when pressed by visitors and sends information to the occupant via a web app. The project won second place in the competition.
The third-place project was the Shower Cane by Naoya Nick Ogura MAOT '16. His presentation described an adjustable four-legged cane designed to both assist individuals getting in and out of the shower as well as store toiletries within easy reach during bathing.[/vc_column_text][/vc_column][/vc_row]
[vc_cta h2="" h4="Join this Year's Universal Design Competition" h4_font_container="font_size:30|color:%23ffcc00″ h4_use_theme_fonts="yes" txt_align="center" use_custom_fonts_h4="true"]
Click here to learn more about the competition
[/vc_cta]