Corinne Jones MAG '18
Multipurpose Senior Services
Program Director, Community Care
After retiring early from a career with AT&T, Corinne Jones went back to school to earn a bachelor's degree in political science. She remembers that it was in a class on elder law where she got her first taste of gerontology.
It excited Jones so much that one of her undergraduate professors took notice and encouraged her to pursue a master of arts degree at the USC Leonard Davis School of Gerontology, the largest gerontology program in the nation.
She agreed, and in 2016 Jones became one of hundreds of thousands of Americans over age 50 going back to school — in her case, for a second time — to study a fascinating field that she knew could take her in any number of directions. USC's degree program in gerontology explores all aspects of human development and aging, using a multidisciplinary approach and embracing students of all ages and backgrounds.
In 2018, Jones was 66 years old when she earned her master of arts degree and was an honor student with recognition by Sigma Phi Omega, the gerontology honor society. She knows that students like her are changing the course of our views on aging, and the USC Leonard Davis School of Gerontology is the perfect place to do that.
"There's a place for everyone," Jones says, adding that it was the "perfect option" for her. "USC is the oldest school of gerontology in the United States. Why would I go anywhere else when I had the best school right here?"
Jones has since put her learning into practice. As the Multipurpose Senior Services Program Director for Community Care serving Lake and Mendocino counties, she administers a program funded through the California Department of Aging. Her clients are low-income, frail adults 65 and over who are certified as being at risk for nursing home placement. The program offers services that allow these individuals to remain in their homes.
The people who interviewed Jones for the job were "totally impressed" by her USC degree, she says. And she is thankful that the Leonard Davis School of Gerontology, with its pioneering faculty and rigorous training, prepared her so well to do it. "The program is current and relevant," she says. "It had everything that I needed to walk away as a graduate and get a top job running one of California's top programs for older adults."
By 2030, all baby boomers will be older than age 65, making the need for people who understand aging (and its implications for society) all the greater. With that in mind, Jones says she knows that her USC gerontology degree has positioned her well for the future. Her advice to others: "Hitch yourself to something that will benefit older adults. If you do that, I guarantee you'll be successful. The field is growing, and it's attached to everything we do."
— By Shannon Flynn
Athan Bezaitis MA '01, MPW '10, CERT '12
Senior Director of Communications and
Public Relations, The Permanente Federation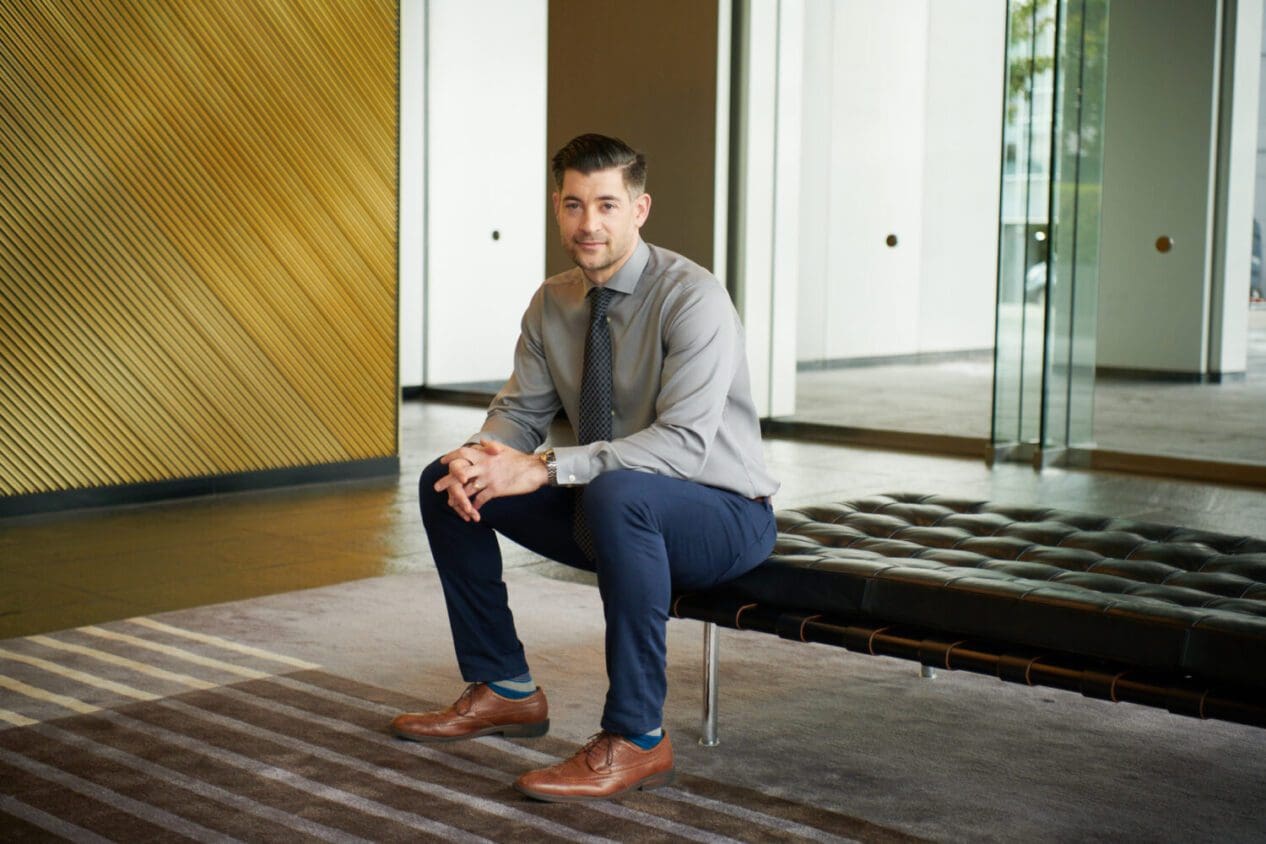 It didn't take long for Athan Bezaitis to catch the gerontology bug. He worked as communications director for the USC Leonard Davis School of Gerontology before he ever took a class. But after getting to know the school's faculty and students and learning about their impactful work, Bezaitis decided to dive into the field himself in 2010.
He now works as senior director of communications and public relations at The Permanente Federation, where he communicates on behalf of 23,000 physicians caring for more than 13 million members of Kaiser Permanente. His USC certificate in gerontology, coupled with his professional experience, is the reason he got there, he says. The certificate program gave him a greater understanding of gerontology policy and research at a time when the aging of the U.S. population has wide-ranging implications. "It's a degree that's going to help provide you the insight that you'll need to be a decision-maker around the future of aging," he says. "I can't think of a better foundation."
Bezaitis says his decision represented the logical next step in a career spent primarily with organizations focused on health care and healthy aging. USC was the perfect choice, not only because he worked there but also because it offered an online graduate certificate in gerontology with highly experienced instructors and an unparalleled range of courses.
The program also provided Bezaitis with the flexibility he needed, given his full-time job. He took one course each semester and was able to engage with each class based on his personal schedule. He could participate in a class in real time or watch a recording later. "The experience was both convenient and enriching," he says.
His favorite course was a gerontology policy class with Kevin Xu Professor in Gerontology George Shannon, who directs the Rongxiang Xu Regenerative Life Science Research Lab at USC.
"I felt like I could have had a degree in public policy because of the amount of information I learned in that course," Bezaitis says. "What I learned about aging public policy is the most relevant part of the work I do today."
Bezaitis applied what he learned at USC to his previous work as communications manager at The SCAN Foundation, an independent nonprofit foundation dedicated to advancing quality care for seniors. As the organization's communications manager, he was able to contribute to discussions that helped shape the Affordable Care Act's long-term care provision. "We got to be right on the cusp of what was happening during the ACA's implementation," he says.
Many of his team members at The SCAN Foundation were USC graduates who had connected him to the job. The school's professional network is real, Bezaitis says, and it's strong. "The aging network at USC is something that [someone can] really take advantage of when they're at the school—and after," he says.
Bezaitis says that the USC program also helped him stand out when interviewing with Kaiser Permanente, and it will only become more valuable amid a growing need for experts in the field.
"I never would have predicted where I am today," Bezaitis says. "[But] gerontology is one of the most important discoveries of my life."
— By Shannon Flynn
Katy Fike MSG '06, PhD '09
Partner, Generator Ventures
The tragedy on September 11, 2001, changed the direction of Katy Fike's life. At the time, she was an investment banking analyst at the World Financial Center in New York City, often pulling all-nighters at the office. The experience made her question everything. "After that morning, I had this feeling in the pit of my stomach that I wanted to do work that made a difference," she recalls. "All the projects I'd been doing suddenly didn't matter."
Fike has always had a strong affinity for seniors, but she hadn't thought about working with them professionally until her mother sent her the book Learning From Hannah: Lessons for a Life Worth Living, by William H. Thomas. The author's thoughts about an ideal elderhood helped Fike connect the dots. "I was kind of blown away," she says. "I still have that copy of the book, and I think I underlined 95 percent of it."
Overwhelmed by the belief that seniors deserved better, Fike began volunteering at Meals on Wheels and assisted living centers. Once she found the topic of gerontology, Fike couldn't get enough.
She says her time at the USC Leonard Davis School of Gerontology was transformative: "It just opened my eyes, page after page, class after class. I felt there was so much I wanted to know, so I decided to stay for the PhD."
After graduation, Fike co-founded a start-up that was focused on health assessment. What she quickly learned was how challenging it can be to raise capital and get new companies off the ground. It would inform her future endeavors. She then joined a consulting firm in Atlanta that dealt with companies such as General Mills, Colgate and Pall Mall. "Through the course of that work, I was struck [that] for every project we'd work on, the demographic target was 18-49," she says. "People over 50 brush their teeth, grocery shop, and wash dishes probably more than 18-year-olds."
So when Fike and her husband moved to San Francisco, she started her own consulting firm, Innovate 50, to facilitate the burgeoning ecosystem of innovators and start-ups. Around that time, she met Stephen Johnston, with whom she would co-found Aging 2.0, a network that strives to accelerate innovation to address the biggest challenges and opportunities in aging. The company has hosted 600 events around the world and has 83 volunteer-run chapters globally.
In 2014, Fike and Johnston started Generator Ventures, an investment platform focused exclusively on the intersection of aging, senior care and technology. One of the companies it's investing in is Active Protection, which produces the Tango Belt: "It's a belt with a bunch of sensors and cold gas airbags," Fike explains. "It can detect if someone is going to have a hip-injuring fall and inflates these airbags to protect the hip, and [it] decreases the effect of a fall by more than 90 percent."
Another is Third Eye Health, a mobile platform that provides telemedicine so seniors can receive medical consults from their home. "We look at ways we can take what have traditionally been very low-tech, high-touch businesses and shift them to more high-tech and high-touch," Fike says. "We want to help people get the care and resources they need in as low-cost a way as possible [and] in the setting they want."
— By Michelle McCarthy