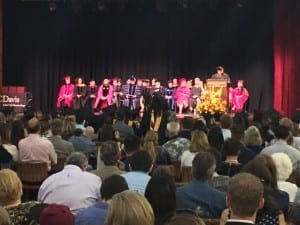 During the 2016 USC Leonard Davis School of Gerontology Commencement Ceremony, held May 13 in the Tutor Campus Center Ballroom, 130 students–the school's largest class ever–celebrated the completion of their bachelor's, master's, and doctoral degree programs.
"The growth of our school is indicative of the growing recognition of gerontology's importance and the pressing need to understand all facets of aging," said Leonard Davis School Dean Pinchas Cohen. "As populations across the world continue to age rapidly, individuals who understand gerontology will be needed in every field from healthcare, research, policy and planning to housing, business and more. That's why, since our founding in 1975, the Davis School has worked to not only remain on the forefront of aging study but also educate the next generation of gerontology experts in groundbreaking ways."
Commencement speaker Rick Matros MSG '77 spoke to graduates about the need to "focus on good values" and uphold high standards in organizations serving seniors, no matter whether someone provides direct care or indirect business or support services. Matros came to USC in 1975 as one of the Davis School's first students and is now the CEO of Sabra Health Care REIT, Inc.
Human Development and Aging graduate Shivanti Kariyawasam, outgoing president of the USC Student Gerontology Association, shared with her peers an unexpected real-life encounter she had with gerontology while reading a fashion magazine. The appearance of an article on aging and changing social relationships in a publication known more for touting anti-aging solutions shows that "our world is changing and becoming more receptive to understanding the perspectives of older adults," she said.
USC's oldest graduate ever, Alfonso Gonzales, also took part in the Davis School ceremony. Now 96 years old, he took his last class with the Davis School after discovering last fall that when he left USC in 1953 he was a single unit shy of completing his bachelor's degree in zoology at the USC Dornsife College of Letters, Arts and Sciences.
"Alfonso has been a diligent and dedicated student, and as USC's oldest graduate ever at the age of 96, he is a terrific role model for the power of lifelong learning," Cohen said prior to presenting Gonzales with his diploma cover.
DAVIS SCHOOL RECOGNITION AWARDS
Doctoral Student Award
Nicholas Woodward
Master's Student Award
Saemy Son
Undergraduate Student Award
Natalie Kaiser
Teaching Award
Edward Schneider, MD
Teaching Assistant Award
Alison Balbag
Allison Ponzio
Heinz Osterburg Prize
Dana Lynn
UNIVERSITY STUDENT RECOGNITION AWARDS
Order of Troy
Karen Eliahu
Shivanti Kariyawasam
Emily Sun
Reesha White
UNIVERSITY HONORS
Renaissance Scholar
Emily Sun
Discovery Scholar
Karen Eliahu** (Prize finalist)
Daniel Kim
Lauren Kim (Prize finalist)
Reesha White (Prize finalist)
GERONTOLOGY MINORS
Nicolette Conte SS **
Veronica Gempis SS
Toudik Gharibian SS
Kylie Prusak SS **
Jennifer Stone SS
BACHELOR OF SCIENCE IN HUMAN DEVELOPMENT AND AGING
Arian Akhavan HS *
Kenneth Akiyoshi SS
Rita Chakrian SS
Jeremy Dietrich HS
Alyssa Dunham SS
Karen Eliahu HS
Gerson Galdamez SS **
Annette Gomez HS
James Gutcho HS
Natalie Kaiser HS Σ *
Shivanti Kariyawasam HS
Daniel Kim HS **
Jesse Kim SS
Lauren Kim SS **
Kaitlin McGillivray HS *
Hannah Meyers HS
Emily Sun SS Σ *
Ernesto Valle SS
Reesha White HS **
Nikki Windisch HS
Ashlynn Yoon SS
BACHELOR OF SCIENCE IN LIFESPAN HEALTH
Katherine Duddridge
Amber Puckett *
Kelsey Reinhardt *
GRADUATE CERTIFICATE IN GERONTOLOGY
Katja Emcke
Rayven Fuller
Octavia Kimble
Tricia Luthman
Hee Soo Park
Dasom You
MASTER OF AGING SERVICES MANAGEMENT
Zarish Akram
Nicole Boyer
Amber Buckham
Czarina Bulosan
Ginell Butler
Stephen Chien
Michelle Chun
Jacqueline Dion
Amy Doan
Lisa Dorf Σ
Cynthia Firestone
Brandi Friday
Molin Fu
Laura Green
Patricia Haddon
Ruikun Huang
Christine Karapetian
Suzanne Kirkland Σ
Barbara Krier
Angela Kurzulian
April Lane Σ
Rita Meldonian
Susan Miedzianowski
Mary Muir
Arlene Peterson
David Postar
Erin Sanford
Silvia Shi
Marcus Shields
Lauren Shin
Tiffany Simmon
Amanda Smith
Esther Sohn
Yassaman Sooudipour
Yongxin Sun
Neta Taterka-Shacham
Kayla Tolstyka
Lindsay Woods
MASTER OF ARTS IN GERONTOLOGY
Jacqueline Allen
Kinnaly Amodio
Tamra Atwood
Peter Azzam
Jennifer Bashford
Neerada Garcia Σ
Lucille Greer
Jennifer Harris-Lee
Bonita Hill
Thomas Hill
Carina Hopen
David Bryan Hopkins Σ
Marnie Khaw
Rose Krzemien
Josephine Levy
Christine Louie
Jennifer Martin
Jennifer Molinar
Vanessa Monahan
Merryn Oliveira Σ
Shinobu Oshima-Rovira
Phyllis Schoenberger
Vikki Smyth
Raymond Sonnet Jr.
Jacob Spruill
Kristen Sullivan
Huilin Sun
Karen Tull-Jordan Σ
MASTER OF SCIENCE IN GERONTOLOGY
Alicia Adams
Davis Baird
Ruizhi Chen
Cathy Crain
Jacqueline De Maria
Yanwen Fang
Kathleen Helppie-Shipley Σ
Pim Huisakul
Zarabeth Hurtado
James Lee
Laureen Leyden
Tianxin Li
Haoxing Ma MPA
Melissa Ou MSW
Sarah Park MSW
Jaclyn Portanova
Miaomiao Shi
Saemy Son
Chuxi Tang
Cindy Tsotsoros Σ
Qian Wang
Xiayun Wang
Yifei Wang
Yumeng Wang
Yifei Yin
DOCTOR OF PHILOSOPHY IN GERONTOLOGY
Mary (Alison) Balbag Σ
"Music Across the Lifespan"
Presented by Margaret Gatz, PhD
Allison Ponzio
"The Impact of Emotion, Valence, and Arousal on
Differential Memory Processes in Younger and Older People"
Presented by Mara Mather, PhD
Nicholas Woodward
"Neuroinflammation and the Behavioral Consequences of
Air Pollution over the Life Course"
Presented by Caleb Finch, PhD
RECOGNITION OF AFFILIATED DOCTORATE
Hank Cheng
"Neuroinflammatory Effects of Urban Traffic-Derived
Nanoparticulate Matter on Neural Systems"
Presented by Caleb Finch, PhD
David Vaughn Clewett
"Noradrenergic Mechanisms of Arousal-Enhanced
Memory Selectivity"
Presented by Mara Mather, PhD
Inyoung Choi
"The Effects of Prolonged Fasting/Fasting Mimicking Diet
(FMD) on CNS Protection, Regeneration, and Treatment"
Presented by Valter Longo, PhD
Stefano Di Biase
"Differential Stress Resistance (DSR) and Differential Stress
Sensitization (DSS): Molecular Mechanisms behind the Efficacy
of Short-Term Starvation (STS)"
Presented by Valter Longo, PhD
Jacqueline Yachiee Lo
"Novel Roles of the WDR23-DDB1-CUL4 Ubiquitin Ligase
Complex in Cytoprotection"
Presented by Sean Curran, PhD
Dana Lynn
"SKN-1 Coordination of Stress Adaptation, Metabolism, and
Resource Allocation in Caenorhabditis Elegans"
Presented by Sean Curran, PhD
LEGEND
HS – Health Science Track
SS – Social Science Track
Σ – Sigma Phi Omega
* – cum laude
** – magna cum laude
MPA – Dual Degree with Master of Public Administration
MSW – Dual Degree with Master of Social Work