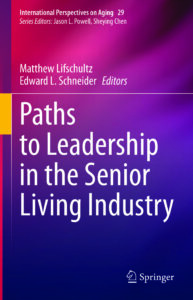 Many students take notes to remember important lessons imparted during lectures. Matthew Lifschultz MASM '18 took it one step further. He turned those notes into a book with his professor, Edward L. Schneider. Their collaboration, Paths to Leadership in the Senior Living Industry (Springer, 2021), collects the wisdom of top senior living leaders, many of whom are regular speakers in Schneider's popular class, GERO 589: Case Studies in Leadership and Change Management.
"Taken together, these essays present the past, present and future of this relatively young industry," says co-editor Schneider, professor of gerontology, medicine and biology and USC Leonard Davis dean emeritus. Contributors include USC Leonard Davis Board of Councilors members Rick Matros MSG '77, Patricia Will, Loren Shook and Mercedes Kerr.
The timely book recounts of how leaders dealt with the arrival of the COVID-19 pandemic and reinforces themes of adaptability through challenge and change, including how to meet the needs of the Baby Boom generation, provide more affordable options and recruit and retain a skilled workforce.
"Senior living is a very complex industry that requires knowledge of so many topics, from regulations, healthcare, and psychology to management, business administration and hospitality," says co-editor Lifschultz, a former practicing attorney who also had careers in housing policy and corporate communications.
After losing his mom, a death he attributes to her loneliness and isolation, Lifschultz entered gerontology wanting to improve living environments for older adults. He and Schneider hope the experiences and perspectives in the book will provide guidance on how to do just that.